SWIFTRELIANT COLLECTION
Offering unmatched value for quality optics and durability. Ideally suited for the budget-minded who want the most bang for their buck. Each nitrogen charged scope is waterproof, shockproof and fogproof with improved "O" rings for rugged outdoor use in extreme environments. Featuring full saddle construction for increased strength and added durability of the riflescope barrel, multi-coated optics and 1/4" click MOA finger-turn windage and elevation adjustments.
SWIFTRELIANT RIFLESCOPE SERIES




4x40

A general-purpose, fixed power scope with wide field of view and bright optics.

Model # SR653M, Matte Finish
MSRP: $190.00

---

Model # SR653S, Silver Finish
MSRP: $194.50

3-9x40

Our most popular selling scope. With an 11 lens element optical system and a wide field of view. Universally useful and an unbeatable value.

Model # SR656M, Matte Finish
MSRP: $214.00

---

SR656M-RHS, with RHS Reticle
MSRP: $235.50

---

SR656G, Gloss Finish
MSRP: $214.00 99.50

---

SR656S, Silver Finish
MSRP: $214.00

Out of Stock Right Now - Coming in Shipment Soon!




1.5-4.5x21

A versatile compact and variable scope. Especially desired by brush hunters to pick up moving objects at low powers for the wide field of view.

Model # SR665M, Matte Finish
MSRP: $194.50

4x32

A compact, general-purpose and fixed-power scope. This light weight scope includes all the quality features of a full-sized Swift scope.

Model # SR668M, Matte Finish
MSRP: $128.00

SWIFTRELIANT RIFLESCOPES

USA Made BaK7 Schott Glass
Full Saddle Construction
Multi-coated Optics
1" Aircraft Aluminum
Locking Ring Eyepiece
Parallax Free at 100 yards
1/4" Click MOA - Finger Turn, Windage and Elevation
Self-centering Quadraplex Reticle
Waterproof, Fogproof & Shockproof
SwiftReliant Five Year Warranty

All models come complete with objective dust covers.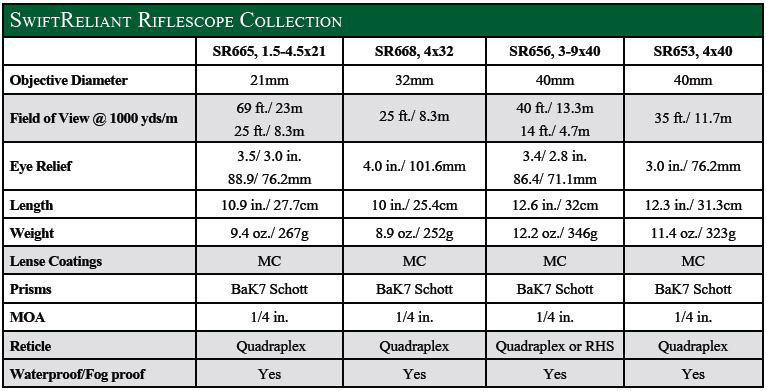 3-9x40, Muzzleloading Riflescope

Offering all the great features of our most popular Reliant Riflescope with the NEW RHS reticle specifically crafted for muzzle loaders and shot guns. The RHS reticle is designed to compensate for 250 grain sabots, fired from muzzle loaders with the following bullet drops:

Model # SR656M-RHS